Cost of Sod Installation in Dallas, Texas
The cost of sod installation in Dallas, Texas is approximately $1.50 per square foot. Sod prices range from $1.30 to $1.70 per square foot depending on the size of your yard. To get a more accurate cost for your sod project, request a quote.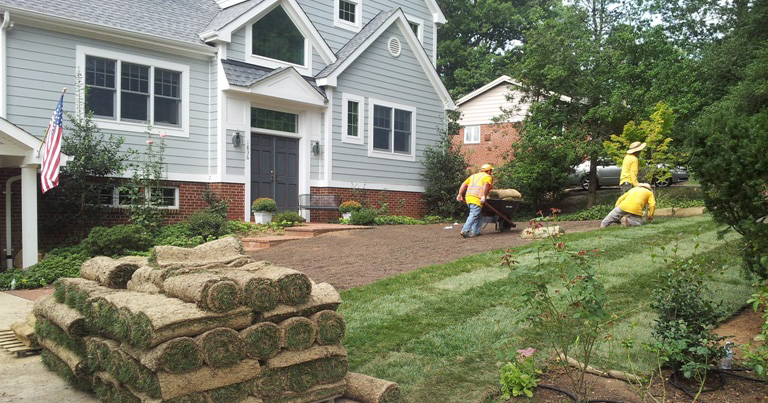 July 12, 2022 08:05 PM
Get Matched to Local Sod Services

Find a Sod Service in just 3-5 minutes. Tell us what you are looking for and receive free cost estimates without any obligation.

Free Cost Estimates
How Much Does it Cost to Sod a Yard in Dallas, TX?
This guide is intended to provide you an approximate cost to install sod in your area. To get a quote for your specific project, Click Here for a Free Estimate. Our research, which includes feedback provided by local sod contractors, resulted in the following prices and cost to install sod in Dallas, TX.
Sod installation cost (per square foot):
The cost to install sod in Dallas, TX is around $1.50 per square foot installed (the cost ranges from $1.30 to $1.70).
Cost of installing sod based on the size of your yard:
500-sf yard: $640 to $870.
1,000-sf yard: $1,300 to $1,700.
2,000-sf yard: $2,550 to $3,470.
3,000-sf yard: $3,800 to $5,200.
4,000-sf yard: $5,100 to $6,900.
5,000-sf yard: $6,400 to $8,700.
6,000-sf yard: $7,700 to $10,400.
7,000-sf yard: $8,900 to $12,100.
8,000-sf yard: $10,200 to $13,900.
9,000-sf yard: $11,500 to $15,600.
10,000-sf yard: $12,800 to $17,300.
15,000-sf yard: $19,200 to $26,000.
20,000-sf yard: $25,500 to $34,700.
Free Quotes from Sod Installers

Find a Sod Contractor in just 3-5 minutes. Request an estimate and ask questions about your upcoming project.

Click to Get Quotes
Factors that Influence the Cost of Sod in Dallas
When a contractor comes to your house to provide you an estimate, they will take into account a number of factors that can increase or decrease the cost of your project. Pricing for sod can vary based on the grade of sod selected and the condition of the terrain where it will be installed. Typically, a yard needs to be prepped by removing old sod and weeds. Soil conditioner is also added before laying the sod. Here are a few things to keep in mind:
Your prices may be higher when:
You have rocky soil.
You have a difficult yard to access.
Your yard has a lot of features or obstacles to work around.
You would like to use a special or more expensive type of sod.
You need to conduct a soil test.
Existing grass needs to be removed and tilled.
You have a sprinkler system to work around.
Your prices may be lower when:
You ask for the work to be done in the off season (which may not be a great idea for sod installation).
Your yard is flat (has no slope).
You choose to use the least expensive type of sod.
It is part of a new construction project (existing sod does not need to be removed).
Price(less) Quotes from Local Sod Suppliers Near Dallas, TX
Qualitech Landscaping & Sod Being locally owned and operated, Qualitech Landscaping and sod strives to be a one-stop-shop solution for all your landscaping and sod installation needs in Dallas TX. We are proud to offer the best contractors in your search for local commercial landscapers near me and we get the job done all under your desired requirements. So, if you want the best for your lawn or landscapes, we are the ones that you need. Qualitech landscaping has the experience and knowledge to ensure a proper tree planting. We also provide services for commercial ground maintenance, turf installation, wood fence contractors and pressure washing.
Sod Grass Dallas Welcome to the #1 sod grass installation company in Dallas, TX. With nearly two decades of service to the DFW area, we provide our customers with quality turf grass sod and great customer service. Our experienced crew will provide you with professional sod solutions that will give your lawn a vibrant, new look it deserves. We also do a variety of other landscaping services in and around the Dallas and surrounding areas like Flower Mound, Argyle, Coppell, Lantana, Double Oak, Bartonville, Frisco, Lewisville Carrollton, Plano, Addison, Denton, and many others. We pride ourselves in giving our customers personalized attention and quality service every time.
Miller Grass Co Proper maintenance is critical to a great yard. We'll help you learn how to help your yard look its best all year round. At Miller Grass, we have no vested interest in advocating one type of grass over another, we are completely manufacturer independent.
J&J Sod Company, llc We aim to inspire, educate and guide our communities to enhance curb appeal by installing and maintaining beautiful, lush lawns. Along with quality fresh sod at affordable prices. Here at J&J Sod Company. We also aim to provide an excellent customer experience. Whether it is a piece of sod for your dog, or to test in your shaded area, or truck loads of pallets. Here at J&J Sod, We'll love to help you.
Get Sod Installation Quotes

Find sod installers in just 3-5 minutes. Tell us what you are looking for and receive free cost estimates without any obligation.

Free Cost Estimates
Related Articles