Cost of Sod Installation in Fort Worth, Texas
The cost of sod installation in Fort Worth, Texas is $1.26 per square foot. The price will range from $1.15 to $1.38 per square foot depending on the particular circumstances related to your yard.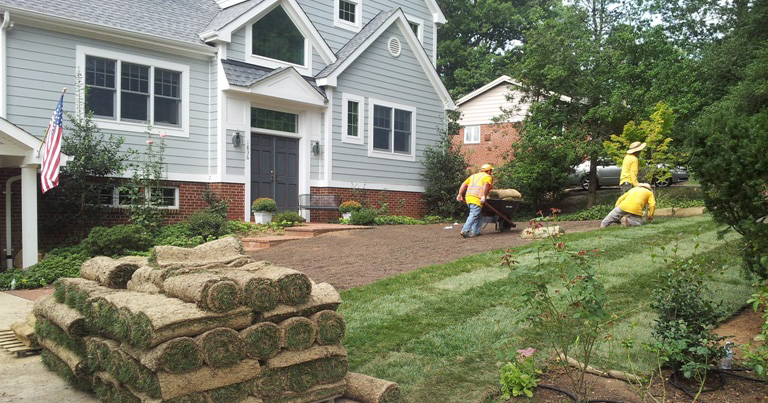 Updated August 13, 2020 03:42 PM
Get Matched to Local Sod Services
Find a Sod Service in just 3-5 minutes. Tell us what you are looking for and receive free cost estimates without any obligation.
Free Cost Estimates
How Much Does it Cost to Sod a Yard in Fort Worth, TX?
This guide is intended to provide you an approximate cost to install sod in your area. To get a quote for your specific project, Click Here for a Free Estimate. Our research, which includes feedback provided by local sod contractors, resulted in the following prices and cost to install sod in Fort Worth, TX.
Square foot cost to install sod:
The cost to install sod in Fort Worth, Texas is $1.26 per square foot (the cost ranges from $1.15 to $1.38) installed.
Cost of installing sod based on the size of your yard:
500-sf yard > $575 to $690
1000-sf yard > $1150 to $1380
2000-sf yard > $2300 to $2760
3000-sf yard > $3450 to $4140
4000-sf yard > $4600 to $5520
5000-sf yard > $5750 to $6900
6000-sf yard > $6900 to $8280
7000-sf yard > $8050 to $9660
8000-sf yard > $9200 to $11040
9000-sf yard > $10350 to $12420
10000-sf yard > $11500 to $13800
15000-sf yard > $17250 to $20700
20000-sf yard > $23000 to $27600
Free Quotes from Sod Installers
Find a Sod Contractor in just 3-5 minutes. Tell us what you are looking for and receive free cost estimates without any obligation.
Click to Get Quotes
Factors that influence the Cost of Sod in Fort Worth
When a contractor comes to your house to provide you an estimate, they will take into account a number of factors that can increase or decrease the cost of your project. Pricing for sod can vary based on the grade of sod selected and the condition of the terrain where it will be installed. Typically a yard needs to be prepped, removing old sod and weeds. Soil conditioner is typically added before laying the sod. Here are a few things to keep in mind.
Your prices may be higher when:
You have rocky soil.
You have a difficult yard to access.
Your yard has a lot of features or obstacles to work around.
You would like to use a special or more expensive type of sod.
You need to conduct a soil test.
Existing grass needs to be removed and tilled.
You have a sprinkler system to work around.
Your prices may be lower when:
You ask for the work to be done in the off season (which may not be a great idea for sod installation).
Your yard is flat (has no slope).
You choose to use the least expensive type of sod.
It is part of a new construction project (existing sod does not need to be removed).
Price(less) Quotes from Sod Installers Near Fort Worth, TX
Sponsors
Complete Lawn Care said, "Installing a sod lawn is not only simple but has many advantages for your lawn long term. Purchasing a home is a huge investment and many people undervalue how much your lawn and landscaping can influence others. Complete Lawn Care has access to quality sustainable sod that is grown to be more dense to prevent erosion and require less water to save you money. Sod lawn is like instant ramen, all of the work is done for you, just throw some water on it and you're done. Perfect for the fast pace American lifestyle. Call us today for a quote".
Sol Vida Landscaping said, "The most commonly available St. Augustine grass varieties in the North Dallas area are Common, Raleigh and Palmetto.You will pay between $230 and $350 for a pallet of St. Augustine sod delivered. Once you have selected the sod type, grass variety and have arranged for the delivery, you'll need a sod installer to prepare the ground and install the new sod. Professional sod installation prices can range between $0.75 – $1.10 per square foot (installation only). Keep in mind that installation costs may vary depending on site access, soil conditions and whether existing grass needs to be removed.".
Purple Care Landscaping & Sod said, "If not installed correctly, sod can result in inefficient water use, pools that attract mosquito larvae, drainage problems, and water waste. We won't put down sod without premium organic soil to enrich and ensure your sod is properly fed.".
Jake's Lawn Care said, "Maintaining a lush, luxurious landscape is no easy feat, but with the help of Jake's Lawn Care, you'll never have to worry.  Our team has over three decades of landscaping experience and we can troubleshoot and resolve and foliage problem or lawn issue.  We pride ourselves on enhancing outdoor spaces with a combination of beautiful plants and flowers and skilled craftsmanship. We'll incorporate your ideas into a sustainable and stylish landscape that will add curbside appeal to your property, and allow you to enjoy your outdoor spaces year round. ".
Blount's Sod Installation said, "Howdy, my name is Grady Blount and I have been in the landscape business for 50 years. And we the are the oldest sod installation service in metroplex. Texas A&M turf specialists. We offer several landscape services including grass sod installation, tree services, and stump removal. We clean up all debry and haul it away ourselves. And we have organic sod.".
Related Articles