Cost of Sod Installation in Houston, Texas
The cost of sod installation in Houston, Texas is $1.27 per square foot. The price will range from $1.16 to $1.40 per square foot depending on the particular circumstances related to your yard.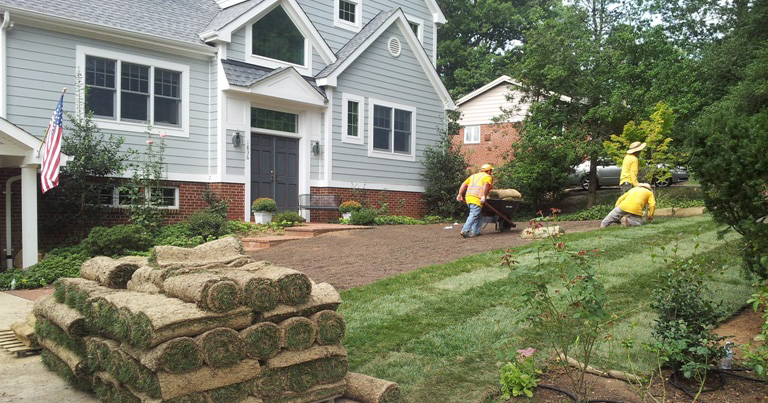 Updated August 08, 2020 01:29 PM
Get Matched to Local Sod Services
Find a Sod Service in just 3-5 minutes. Tell us what you are looking for and receive free cost estimates without any obligation.
Free Cost Estimates
How Much Does it Cost to Sod a Yard in Houston, TX?
This guide is intended to provide you an approximate cost to install sod in your area. To get a quote for your specific project, Click Here for a Free Estimate. Our research, which includes feedback provided by local sod contractors, resulted in the following prices and cost to install sod in Houston, TX.
Square foot cost to install sod:
The cost to install sod in Houston, Texas is $1.27 per square foot (the cost ranges from $1.16 to $1.40) installed.
Cost of installing sod based on the size of your yard:
500-sf yard > $580 to $700
1000-sf yard > $1160 to $1400
2000-sf yard > $2320 to $2800
3000-sf yard > $3480 to $4200
4000-sf yard > $4640 to $5600
5000-sf yard > $5800 to $7000
6000-sf yard > $6960 to $8400
7000-sf yard > $8120 to $9800
8000-sf yard > $9280 to $11200
9000-sf yard > $10440 to $12600
10000-sf yard > $11600 to $14000
15000-sf yard > $17400 to $21000
20000-sf yard > $23200 to $28000
Free Quotes from Sod Installers
Find a Sod Contractor in just 3-5 minutes. Tell us what you are looking for and receive free cost estimates without any obligation.
Click to Get Quotes
Factors that influence the Cost of Sod in Houston
When a contractor comes to your house to provide you an estimate, they will take into account a number of factors that can increase or decrease the cost of your project. Pricing for sod can vary based on the grade of sod selected and the condition of the terrain where it will be installed. Typically a yard needs to be prepped, removing old sod and weeds. Soil conditioner is typically added before laying the sod. Here are a few things to keep in mind.
Your prices may be higher when:
You have rocky soil.
You have a difficult yard to access.
Your yard has a lot of features or obstacles to work around.
You would like to use a special or more expensive type of sod.
You need to conduct a soil test.
Existing grass needs to be removed and tilled.
You have a sprinkler system to work around.
Your prices may be lower when:
You ask for the work to be done in the off season (which may not be a great idea for sod installation).
Your yard is flat (has no slope).
You choose to use the least expensive type of sod.
It is part of a new construction project (existing sod does not need to be removed).
Price(less) Quotes from Sod Installers Near Houston, TX
The Grass Outlet said, "The Grass Outlet applies 3 generations of Texas turf-grass experience, so you receive beautiful grass and service you can depend on. With quality farms in the rich soil and ideal climate of the Texas Gulf Coast, we pride ourselves in delivering the finest grass in the Lone Star State. ".
Milberger's Landscaping and Nursery said, "Milberger's Landscape Nursery offers the largest selection of turf grass sod available in South Central Texas. We usually carry nineteen different varieties of sod, including the newest releases of turf grass that have been tested and judged reliable in our area. We have sample lawn areas of most of the sod types that we carry. You are invited to examine and walk on these sample lawn areas to help you determine the look and feel of the turf that is most suitable for your landscape.".
Kings Ranch Turf Grass said, "Here at King Ranch Turfgrass, we have high-quality sod grass for sale in Texas and are ready to deliver it directly to your home or commercial property. As a true agricultural innovator, many local residents already consider King Ranch to be a household name. And, we have harnessed this agricultural expertise to provide a wide variety of beautiful, healthy grasses to our clients.".
Texas Lawn Masters said, "The key to a great looking yard is healthy grass. We will install sod and new lawn installation at competitive rates. Using only the highest quality materials available on the market and our best workmanship, we will install a brand new lawn that looks like a million bucks.".
Related Articles