Cost of Sod Installation in Phoenix, Arizona
The cost of sod installation in Phoenix, Arizona is approximately $1.60 per square foot. Sod prices range from $1.40 to $1.80 per square foot depending on the size of your yard. To get a more accurate cost for your sod project, request a quote.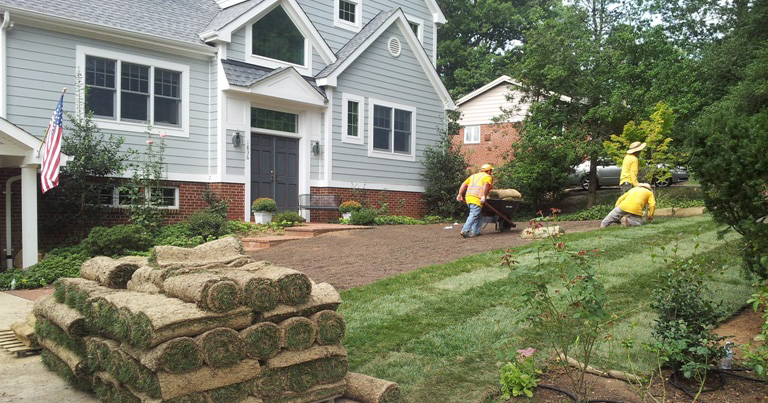 July 12, 2022 08:05 PM
Get Matched to Local Sod Services

Find a Sod Service in just 3-5 minutes. Tell us what you are looking for and receive free cost estimates without any obligation.

Free Cost Estimates
How Much Does it Cost to Sod a Yard in Phoenix, AZ?
This guide is intended to provide you an approximate cost to install sod in your area. To get a quote for your specific project, Click Here for a Free Estimate. Our research, which includes feedback provided by local sod contractors, resulted in the following prices and cost to install sod in Phoenix, AZ.
Sod installation cost (per square foot):
The cost to install sod in Phoenix, AZ is around $1.60 per square foot installed (the cost ranges from $1.40 to $1.80).
Cost of installing sod based on the size of your yard:
500-sf yard: $680 to $920.
1,000-sf yard: $1,400 to $1,800.
2,000-sf yard: $2,720 to $3,690.
3,000-sf yard: $4,100 to $5,500.
4,000-sf yard: $5,400 to $7,400.
5,000-sf yard: $6,800 to $9,200.
6,000-sf yard: $8,200 to $11,100.
7,000-sf yard: $9,500 to $12,900.
8,000-sf yard: $10,900 to $14,800.
9,000-sf yard: $12,200 to $16,600.
10,000-sf yard: $13,600 to $18,400.
15,000-sf yard: $20,400 to $27,700.
20,000-sf yard: $27,200 to $36,900.
Free Quotes from Sod Installers

Find a Sod Contractor in just 3-5 minutes. Request an estimate and ask questions about your upcoming project.

Click to Get Quotes
Factors that Influence the Cost of Sod in Phoenix
When a contractor comes to your house to provide you an estimate, they will take into account a number of factors that can increase or decrease the cost of your project. Pricing for sod can vary based on the grade of sod selected and the condition of the terrain where it will be installed. Typically, a yard needs to be prepped by removing old sod and weeds. Soil conditioner is also added before laying the sod. Here are a few things to keep in mind:
Your prices may be higher when:
You have rocky soil.
You have a difficult yard to access.
Your yard has a lot of features or obstacles to work around.
You would like to use a special or more expensive type of sod.
You need to conduct a soil test.
Existing grass needs to be removed and tilled.
You have a sprinkler system to work around.
Your prices may be lower when:
You ask for the work to be done in the off season (which may not be a great idea for sod installation).
Your yard is flat (has no slope).
You choose to use the least expensive type of sod.
It is part of a new construction project (existing sod does not need to be removed).
Price(less) Quotes from Local Sod Suppliers Near Phoenix, AZ
MasterAZscapes LLC As your local professional landscaper in Phoenix, we have experience in the landscaping business going back to 1986. When it comes to finding a landscaper in Phoenix, homeowners want a solution that meets their needs, and our business is built to intuitively serve those needs. We work with you to identify your ideals, habits, and style in creating landscaping that is as functional as it is beautifully suited to your unique flair.
Arizona Artificial Lawns Arizona Artificial Lawns has been delivering pristine artificial grass and putting green installations across Arizona since 2003. As one of the longest continually operating artificial grass installation and distribution companies in the U.S., we have the in depth experience required to ensure that you receive the best product and service for your project. Our team has over 80 years of experience in the artificial grass manufacturing and installation business, and we are dedicated to making sure that you have the best system for your needs.
Arizona Turf Masters For more than a decade Arizona Turf Masters has been specializing in the design and installation of the most advanced and realistic synthetic lawns in the industry. Working closely with clients to ensure their installations are perfectly executed, Arizona Turf Masters has the knowledge and experience to create the perfect solution for any landscape. Whether you're looking for a lush green lawn your family will enjoy all year or an artificial putting green made to order for your individual game, Arizona Turf Masters is your synthetic grass solution. If you own or manage a commercial property, we can similarly enhance its value with the perfect synthetic grass landscape – with cost savings, low maintenance and no watering.
Divine Green Landscape & Pest Control We've got an eye for all things green! With state-of-the-art equipment and a skilled team of licensed experts, we're ready to take on any job you need completed for your yard. DIVINE GREEN LLC. is a company based in Phoenix, Arizona providing Residential & Commercial properties with Landscape, Lawn Care, Weed Control, and Pest Control services. We don't consider any job to be outside our scope of work.
Get Sod Installation Quotes

Find sod installers in just 3-5 minutes. Tell us what you are looking for and receive free cost estimates without any obligation.

Free Cost Estimates
Related Articles