Cost of Sod Installation in Phoenix, Arizona
The cost of sod installation in Phoenix, Arizona is $1.39 per square foot. The price will range from $1.27 to $1.53 per square foot depending on the particular circumstances related to your yard.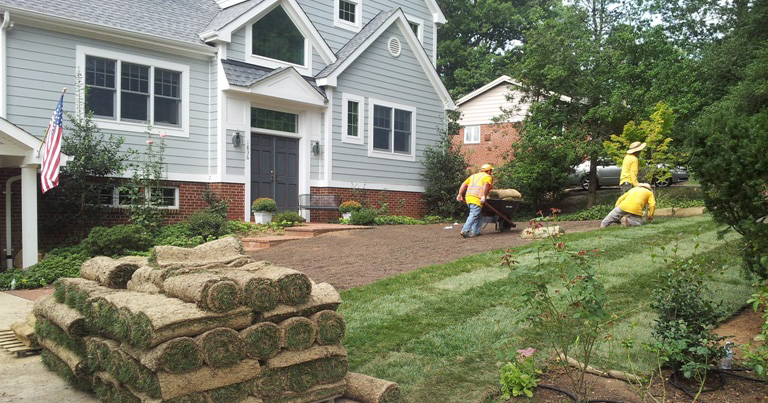 Updated October 23, 2020 05:34 PM
Get Matched to Local Sod Services

Find a Sod Service in just 3-5 minutes. Tell us what you are looking for and receive free cost estimates without any obligation.

Free Cost Estimates
How Much Does it Cost to Sod a Yard in Phoenix, AZ?
This guide is intended to provide you an approximate cost to install sod in your area. To get a quote for your specific project, Click Here for a Free Estimate. Our research, which includes feedback provided by local sod contractors, resulted in the following prices and cost to install sod in Phoenix, AZ.
Square foot cost to install sod:
The cost to install sod in Phoenix, Arizona is $1.39 per square foot (the cost ranges from $1.27 to $1.53) installed.
Cost of installing sod based on the size of your yard:
500-sf yard > $635 to $765
1000-sf yard > $1,270 to $1,530
2000-sf yard > $2,540 to $3,060
3000-sf yard > $3,810 to $4,590
4000-sf yard > $5,080 to $6,120
5000-sf yard > $6,350 to $7,650
6000-sf yard > $7,620 to $9,180
7000-sf yard > $8,890 to $10,710
8000-sf yard > $10,160 to $12,240
9000-sf yard > $11,430 to $13,770
10000-sf yard > $12,700 to $15,300
15000-sf yard > $19,050 to $22,950
20000-sf yard > $25,400 to $30,600
Free Quotes from Sod Installers

Find a Sod Contractor in just 3-5 minutes. Tell us what you are looking for and receive free cost estimates without any obligation.

Click to Get Quotes
Factors that influence the Cost of Sod in Phoenix
When a contractor comes to your house to provide you an estimate, they will take into account a number of factors that can increase or decrease the cost of your project. Pricing for sod can vary based on the grade of sod selected and the condition of the terrain where it will be installed. Typically a yard needs to be prepped, removing old sod and weeds. Soil conditioner is typically added before laying the sod. Here are a few things to keep in mind.
Your prices may be higher when:
You have rocky soil.
You have a difficult yard to access.
Your yard has a lot of features or obstacles to work around.
You would like to use a special or more expensive type of sod.
You need to conduct a soil test.
Existing grass needs to be removed and tilled.
You have a sprinkler system to work around.
Your prices may be lower when:
You ask for the work to be done in the off season (which may not be a great idea for sod installation).
Your yard is flat (has no slope).
You choose to use the least expensive type of sod.
It is part of a new construction project (existing sod does not need to be removed).
Price(less) Quotes from Sod Installers Near Phoenix, AZ
Arizona Turf Masters said, "For more than a decade Arizona Turf Masters has been specializing in the design and installation of the most advanced and realistic synthetic lawns in the industry. Working closely with clients to ensure their installations are perfectly executed, Arizona Turf Masters has the knowledge and experience to create the perfect solution for any landscape.".
Goodman's Landscape said, "Serving Residential, HOA, Commercial & Industrial properties in the North Valley since 1984, Goodman's has developed a reputation for dependability, integrity and the kind of good old fashioned customer service you seldom enjoy these days from other landscaping companies. For all of your Landscape and Yard Care needs, rely on Goodman's to listen, react and communicate.".
Green Leaf Landscape said, "At Green Leaf Landscape, we believe, you shouldn't have to compromise for anything less than the highest quality, professional service." We strive to provide beautiful landscapes at the most affordable price. From the initial design consultation, to the introduction to the yard of your dreams, using over 15 years of experience in landscape and design , we exhaust every resource to achieve a standard, unparalleled excellence.".
Pro Outdoor Services said, "Phoenix sod grass installation is performed by the outdoor living experts at Pro Outdoor Services. If you are wanting gorgeous, green grass without the effort of having to seed and fertilize the ground to make it sprout, you should consider sod installation. Sod installation is a fast and easy way to get beautiful grass without the time and hassle of traditional seeding. To learn more about Phoenix sod installation and why you should consider it for your landscaping, contact us today.".
Related Articles